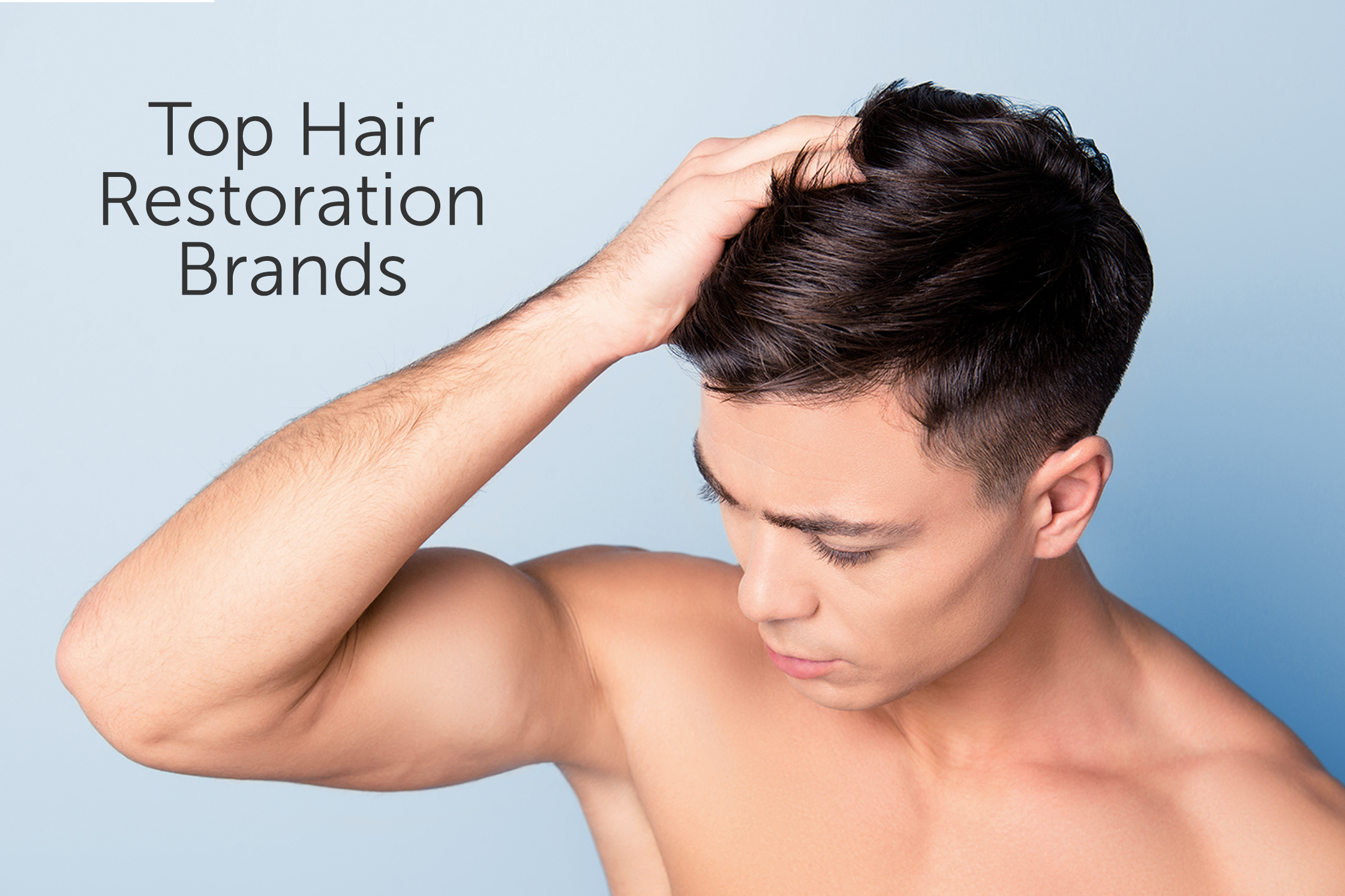 See Yourself with Thicker, Fuller Hair
Thinning hair? Receding hairline? Crown balding? Hair restoration may be a great option for you to help restore your youthful hair, bring back overall thickness, and restore self confidence. Hair restoration is one of the fastest growing facets of the aesthetics industry, for both women and men! With such a quickly growing market we've curated a list of top hair restoration brands and what they can do for you, whether you're looking for a little overall fullness, are combatting a receding hairline, or want to restore your confidence and youth with a full new head of hair. See below for what options are available to you and who has the best available!
Hair loss is very common as we age, and for some can bring feelings of insecurity, inadequacy, or embarrassment. If you're considering a treatment for hair restoration just trying to navigate the market can feel confusing, and maybe like something you don't want showing up in your search history should you feel embarrassed about your hair loss. First of all, hair loss is not something to be embarrassed about, it's not even something we have control over! For many, genetics can play a huge role causing hair loss, and for others it can be related to hormonal changes (hello, menopause), medical conditions, or medications. If you're experiencing hair loss, and you're happy with the changes in your body, there is no need to change anything! However if you're unhappy with the changes you're experiencing, there are a lot of options, and we're here to help you navigate through those. 
Types of Hair Restoration
Hair restoration comes in several forms: temporary (extensions or sprays for a thicker appearance); semi-permanent (long lasting non-surgical approaches such as hair pieces or hair systems); and permanent (usually surgical options such as hair transplantation, but can also cover creams and serums that encourage hair growth). Temporary solutions are often risk free as you can change them whenever you like. We're going to cover the semi-permanent and permanent options as those have the most inherent risk, and often the highest cost. 
To see what you could potentially look like with a hair restoration procedure, feel free to
try it on for $15.00
through New Look Now!
Not your Grandfather's Toupee
The most common form of semi-permanent hair restoration are hair pieces, and hair systems. Now we're not talking about your grandfather's toupee here! The technology behind hair pieces has improved dramatically over the past several years, and partial or full hair pieces can be integrated into your existing hair to produce dramatic, natural-looking results. Because of the lower cost up front, these systems have a lower barrier to entry, and for semi-permanent options you can even shower with them! Many companies will also help in the maintenance and upkeep of both the hair piece and your own hair to maintain a fully realistic appearance, even as your hair grows out. 
Joe Rogan and Hair Loss
Celebrity comedian and UFC host Joe Rogan has been upfront about his hair restoration journey, having gone through the old "strip method" that left a scar on his forehead and ultimately didn't stop his overall hair loss. Technology has changed significantly since the "strip method" (also called Follicular Unit Transplantation, or FUT) was the most common form of hair restoration, however! Previously, a provider would need to take a strip of hair (still attached to the skin) from the back of the head near the base of the skull and transfer it to the area of the head experiencing hair loss. This results in visible scarring, and for some, like Joe Rogan, ultimately doesn't fix the thinning of hair. Rogan now shaves his head, and in some lighting you can still see the scars leftover from his experience. 
Your Hair, No Scarring
However, technology for (more) permanent hair restoration solutions has changed incredibly over the last several years, moving from the "strip method" to a safer, minimally invasive, and better result through Follicular Unit Extraction (FUE). There are several FDA-approved FUE devices on the market for use by hair transplantation professionals. These FUE devices extract the hair follicle individually from "donor areas" of the head or body, keeping the base of the follicle intact, and are used to then transplant the follicle into the areas of the head seeing hair loss. These "hair plants" are then able to fully regrow from the new area they were transplanted to. Some lack of hair growth is expected, so depending on the amount of donor hair available, hair transplant professionals can plant multiple follicles in one area to better the chance of regrowth. FUE transplantation is considered non-surgical, because you will not need to be under general anesthesia for the procedure, and feature minimal recovery time. There are no stitches required and no linear scars as you would see from the older FUT or "strip" method. 
Whatever your hair loss, we've got you covered!
To help navigate the growing market of FUE, FUT, and hair system providers, we've curated the below list of main brands available in the US to help you start your research on the first step in your aesthetic journey. Considering a hair transplantation option for yourself? Try it on today for $15.00 through New Look Now, and take your simulation with you to a consultation with a board certified provider to discuss what transplantation method, restoration treatment, or hair system would help you reach that result!
Read below for more information on popular brands! Some brands offer clinical training for their devices, and some require certification, which we've called out below. Make sure to ask your intended provider what training or certification they have in their device and practice, and remember that it's ok to seek out another provider if you are unsure about their qualifications!
Today's Most Popular Hair Restoration Brands
Description: NeoGraft is a newer brand in the last several years which uses an automated hair transplant system to harvest hair follicles during FUE (Follicular Unit Extraction) hair transplant, instead of the older manual methods of FUE. NeoGraft states that their goal is to educate patients about all their options, build a supportive community, and help patients find a NeoGraft physician in their area. Because NeoGraft uses the FUE method but automated, their results are minimally invasive, and natural looking, with little-to-no discomfort, and quick recovery times. The company also allows for flexible financing at their locations. NeoGraft is marketed for all hair loss and all individuals, male and female.
What makes it stand out: NeoGraft's claim to fame is their automated hair transplant system. In 2009, NeoGraft became the first robotic surgical device FDA approved for hair restoration. This automated approach dramatically improves the accuracy and speed of extraction of hair follicles compared to previously used manual extraction instruments, and assists in higher successes of retention of the transplanted hair. 
Recovery time: Recovery from a NeoGraft treatment can take a couple days before everything is fully healed, and after 7-10 days the transplanted hair will be safely rooted under the scalp, and new hair growth will begin. Many NeoGraft physicians will "over plant" the area in order to ensure accurate hair growth, as some lack of retention is expected. 
Where to find:
NeoGraft devices can be purchased by professional providers only, and NeoGraft offers a
provider finder
on their website to help you find providers in your area. NeoGraft provides clinical support and training to all its providers, and consistent follow up for training and new techniques, but users are not required to go through certification.
Average cost:
According to the NeoGraft website, the cost of a NeoGraft Hair Transplant can range from $2,000 to $18,000 depending on your type of hair and hair loss. The cost varies by the amount of grafts to be transplanted. NeoGraft offers a
unique chart
for both men and women on their website to help you ballpark your costs based on your type of hair loss, however a consultation with a NeoGraft provider is the surest way to determine your expected costs.
Description: ARTAS, like NeoGraft above, is an automated Follicular Unit Extraction (FUE) device using state of the art robotic and artificial intelligence for accurate, minimally-invasive hair restoration. The ARTAS System was developed with leading hair transplant physicians and researchers to assist physicians with difficult, manual methods that require repetitive and precise movements which can increase the risk of human error during extraction and transplantation. As it uses FUE for its transplant method, ARTAS provides natural results without stitches, staples, linear scarring, or damage to existing hair. Currently, ARTAS is marketed for male hair restoration, and may not be suitable for all hair types.
What makes it stand out: ARTAS' high definition stereoscopic vision system uses algorithms to identify and select the best hair follicles for harvesting. Your hair is then intelligently harvested to preserve the natural look of the donor area, without over-thinning. ARTAS also allows providers to design your hairline as well to help create a natural look after transplantation.
Recovery time:
The ARTAS website lists their recovery as
2-3 days
, with permanent hair growth starting at around 6 months. As with all FUE procedures some lack of hair retention is expected.
Where to find:
ARTAS is only available in specific provider locations, so they offer a
provider finder
on their site to help find a provider near you.
Average cost: The average cost of treatment can range from $7,000-$18,000, or as high as $15 per graft.
Description: Bosley a leading brand in the hair restoration industry, with over 40 years in the industry, providing permanent hair transplant techniques and non-surgical hair loss solutions and products. Bosley trains its providers in FUT (Follicular Unit Transplantation) and FUE (Follicular Unit Extraction) methods, and is the provider of clinically proven treatment solutions and products that assist in hair regrowth. They even offer solutions for eyebrows! Bosley also offers an FDA-Approved pill taken once a day to inhibit the formation of DHT, the hormone that weakens hair and halts hair growth. However, this pill is not approved for use by everyone so please speak with your provider if you are considering a pill.
What makes it stand out: Bosley has been in the industry for over 40 years, and has been a leading brand due to their advances in technology and available products on the market. Every Bosley physician is also required to be actively licensed in the state in which they practice, and a member of one or more professional associations. Before joining Bosley, all of Bosley's physicians are required to have had years of training and experience in their field.
Recovery time: Because of the expansive amount of solutions Bosley offers we aren't able to report on a specific recovery time, however many of their non-surgical options have little-to-no downtime associated, and FUE and FUT solutions from Bosley physicians show standard recovery times of approximately a week to a few months depending on the procedure.
Where to find: Bosley solutions, treatments, and products are only offered by trained Bosley physicians. To help find a Bosley physician, Bosley offers a provider finder on their website. You can also purchase specific Bosley products available to consumers through their web store.
Average cost: Costs vary widely depending on which treatment option you're engaging in, but you can expect to spend somewhere between $800-$15,000 depending on your solution. A consultation with a Bosley physician is the best way to determine your anticipated cost, however all prices for products directly available to consumers are listed in their web store.
Description: Hair Club (formerly Hair Club for Men, also Hair Club for Men and Women) is an American hair restoration and hair replacement company with locations in the United States, Canada, and Puerto Rico. Hair Club provides various hair restoration options including surgical hair replacement, non-surgical hair replacement, hair loss therapy, and prevention for at-home use. The company originally offered services to male clientele only, but years ago added services for women to address female hair loss and thinning, and now focuses on hair loss treatments and prevention for all. They also provide free hair restoration services to children with hair loss caused by medical conditions! Hair Club promotes its individually tailored solutions more than specific products or treatment types to create the most natural look possible that fits with your goals and lifestyle. For example, semi-permanent hair system solutions blend real human hair with your own to create long-lasting non-surgical results. Because Hair Club focuses on providing an experience and tailored results, Hair Club offers monthly memberships to promote maintenance and upkeep of your new look.
What makes it stand out: Hair Club offers a wide variety of solutions for hair loss at its centers, and through monthly membership provides professional grooming and hair cutting for hair pieces and hair systems in order to keep your style fresh and natural. Their professionally-trained providers, their products, and their services can help any person of any age or ethnicity, with any hair type or level of hair loss. Hair Club seeks to support their customers throughout their whole hair restoration journey and fosters a welcoming and educational space. During a consultation, a Hair Club provider will help determine what treatment options will best fit your lifestyle, and custom tailor a solution for you. Hair Club does not offer the older Follicular Unit Transplant (FUT) method, and instead works with you to create a combination of treatments, products, or hair systems to create your look.
Recovery time: Recovery time can vary widely due to the many options available, but many boast little-to-no downtime. Any treatment involving extraction and transplantation should assume the average recovery time for Follicular Unit Extraction (FUE) methods, but a consultation with a Hair Club provider will help better understand whether you can return to work the next day or if you'll need a couple days of recovery. Hair systems and hair pieces will see an immediate improvement, while treatments and products can take a few weeks to a few months to start seeing full hair growth.
Where to find:
Hair Club solutions are only available at Hair Club locations, use the
provider finder
on their website to find a location near you! As always we highly recommend a consultation to determine if Hair Club has the solution you're looking for. 
Average cost:
Cost will vary widely depending on the service and solution you get through Hair Club. If you're going for a Hair System, the initial fee is reported at
$1200
, with the majority of clients also paying $200-$700 a month for maintenance. Topical products sold through Hair Club are listed with prices in their
web store
. 
Description:
By now, Rogaine has become a household name for at-home hair restoration. Rogaine's products penetrate your scalp to restore inactive hair follicles and increase protein production, helping increase hair production. Because their products are easy to access and easy to use, Rogaine can fit easily into a daily routine, and when used properly can help counteract the thinning and loss of hair over time. However, Rogaine is
typically
only effective in people with hereditary hair loss, and works best while hair is still thinning, typically for those under 40. Rogaine can be used by all genders and hair types, but spot treatment is advised to make sure your skin doesn't react poorly. Rogaine is not intended for individuals whose hair loss is caused by conditions such as thyroid disease, scarring, medications, or treatments such as chemotherapy.
What makes it stand out: Rogaine is the 1st FDA-approved over-the-counter product proven to regrow hair. According to the Rogaine website, in clinical studies, "9 out of 10 men and more than 80% of women increased their hair count after using ROGAINE® vs. a placebo." Rogaine has few side effects and no reported drug interactions. You can follow your normal hair care routine, and it's safe to use on color-treated or chemically treated hair. The lower cost of products also helps make it more affordable for consumers, and can help keep your hair fuller longer.
Recovery time: You'll begin to see visible results within 3-4 months of using Rogaine, provided your hair loss isn't severe and is caused by hereditary hair loss. Because it's an at-home product there is no downtime or recovery time associated.
Where to find:
Rogaine can be purchased in most drug stores in the United States, and Rogaine offers a
store locator
on their site to help you find the nearest location. Rogaine also offers their products in their
web store
. 
Average cost: $30.00
Description: Sunetics International Marketing Group LLC, located in Dallas, Texas, is the manufacturer of the first clinical low level laser device FDA cleared to grow hair and treat hair loss in both men and women. Sunetics International manufactures under strict quality assurance guidelines and is a registered manufacturer with the US FDA / CDRH as required by applicable laws. Sunetics International is devoted to creating quality products that are safe, effective, and benefit both physicians and their patients. Since Sunetics uses a low level laser, however, it can only help thicken existing hair and can't resurrect dead hair follicles, meaning this device is best intended for those with overall thinning rather than full baldness.
What makes it stand out:
The Sunetics Laser uses Low Level Laser Therapy (LLLT) to stimulate the hair follicles and increase production and strength, and is the first FDA cleared LLLT device. The laser energy helps increase blood flow and oxygen uptake, while aiding in the removal of the hormone DHT in the area. There is no pain or discomfort reported, though some "slight tingling" during the procedure is expected. There are no known adverse effects for Sunetics reported, but we always recommend searching real user reviews on sites like
RealSelf
to confirm. Sunetics treatments can also be combined with other hair restoration aids such as Propecia or Minoxidil (the active ingredient in topical Hair Club and Rogaine products) for increased results.
Recovery time: Because Sunetics is a non-surgical laser there is no downtime or recovery time for the procedure. Treatments however occur frequently in order to increase hair growth. Patients will come in 2 times a week for the first 12 weeks, then once a week for the next 12 weeks. If more treatments are necessary a provider the physician can have patients come in once every other week for an additional 6 months. If you're a good candidate for the device you can see optimum results in approximately 8 months, depending on the level of hair loss.
Where to find: As Sunetics is a device, it can only be purchased and used by providers. Sunetics doesn't offer a provider finder on their web site, so ask your intended provider if they use the Sunetics Laser.
Average cost:
A single treatment session can cost approximately
$150-$300
, depending on factors such as amount of hair loss and the size of the treatment area, and as mentioned above several repeat treatments are required in order to see a change in overall hair thickness and density. 
Whatever your type of hair loss, or restoration brand you're interested in, we highly recommend you try on a treatment first to take it with you to your consultation. This will give you the opportunity to discuss what you like, and DON'T like, about your simulation, and can help your provider come up with a recommended treatment plan to get the result you're interested in. New Look Now® is here to help you through the process: try on a hair restoration procedure for $15 today to see if hair restoration would be right for you.